Spiritual Characteristics of Children
Over the past couple of months I have been on a journey of understanding the role of children in the church. 'Journey' is the perfect word to describe it, as I have had my assumptions challenged and views of the Kingdom of God expanded.
One of the greatest insights I have had thus far is that children are already born in connection with God. God gives us faith when we are born, which has incredible implications for how we do children's ministry. As Karen-Marie Yust, author of Real Kids, Real Faith points out, this means that kids are not potential people of faith in need of further development, but that children of all ages can engage in spiritual life.
For all of us seeking to help children grow in their faith, this makes us partners walking side by side together in our faith journeys.
Given this, it is important to know where our kids are at in their understanding of God. In her book Home Grown, Handbook for Christian Parenting, Karen DeBoer provides a fantastic description of the spiritual characteristics of children as they age. As we walk with our kids on this journey, our own faith can be nurtured by children's understanding of God.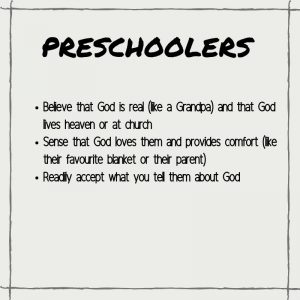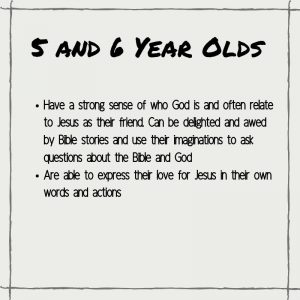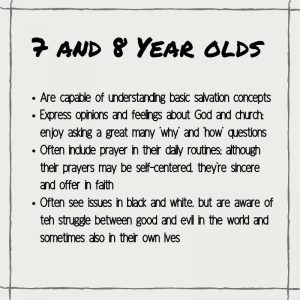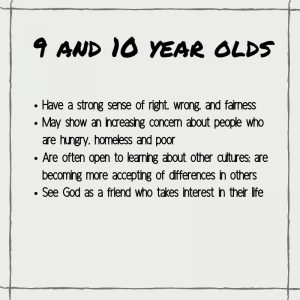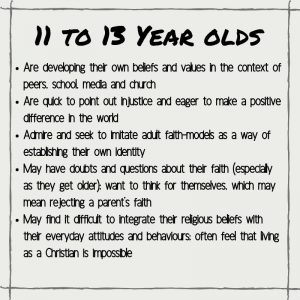 Want to find out how you can nurture your child's faith along each of these life stages? Make sure to stop by the Children and Family Ministries bulletin board in the fellowship hall next Sunday.
In Christ,
Holly
Coordinator of Children and Family Ministries
DeBoer, K. (2010). Home Grown: Handbook for Christian Parenting. Grand Rapids, MI: Faith Alive Christian Resources.